GlobalData has been tracking data on deployments of Internet of Things (IoT) technology by enterprise organisations for several years, via its IoT Deployment Database. While we'll continue collecting data on deployment projects undertaken in 2019 throughout 2020, the data collected so far provides useful insights on where activity is occurring regionally, by sector, and for each common use case. Below are highlights, including how enterprise IoT market activity in 2019 looked compared to the previous three years.
More "global" deployments than ever
Europe still accounts for the most IoT deployment activity for which GlobalData data is available edging out North America in 2019 at 32 per cent compared to 28 per cent of all deployments. (In the period of 2016-2018, the figures were 38 per cent and 30 per cent.) Projects identified in Asia-Pacific, the Middle East and Africa (MEA), and Central & Latin America (CALA) continue to appear under-represented in our database compared to what is likely occurring on the ground.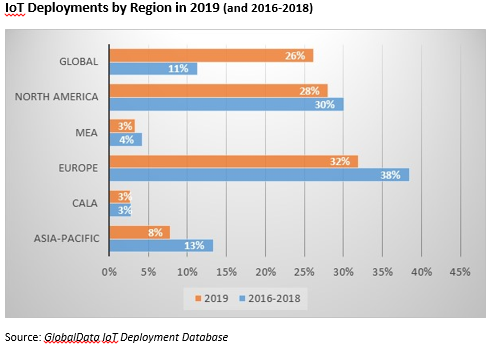 The biggest regional change in 2019 was the frequency of deployments with a global remit, most of which are undertaken by global companies operating in multiple countries and regions around the world. Such global deployments increased from 11 per cent of all deployments during 2016-2018, to 26 per cent of all deployments tracked so far during 2019.
Manufacturing takes the sector lead
Comparing IoT deployments by sector in 2019 is instructive, and reflects the high volume of industry messaging around operational technology and Industry 4.0 over the last 18 months or more. Last year, manufacturing overtook government as the sector accounting for the largest number of IoT deployment projects, with 23 per cent of the total (compared to 15 per cent in 2016-2018).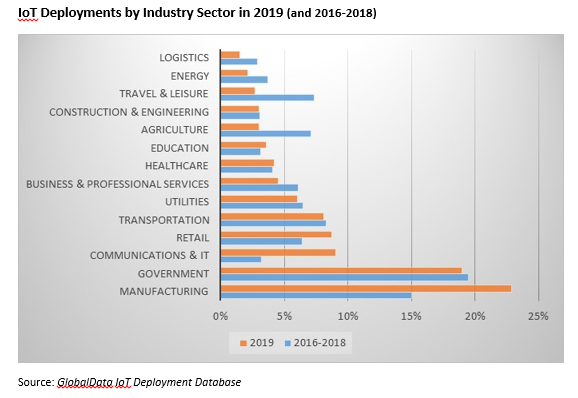 Other sectors increasing their representation in 2019 include communications & IT (9 per cent compared to 3 per cent) and retail (9 per cent compared to 6 per cent). The government sector held steady at 19 per cent of all projects in 2019 compared to 20 per cent in 2016-2018.
Advanced automation use cases on the rise
Despite the manufacturing sector deploying IoT more frequently in 2019 than other sectors, true Industry 4.0 case studies are still difficult to find. That said, the trend in IoT use cases in 2019 does provide evidence of the technology being used for more advanced applications within industrial and enterprise environments. For example, during 2016-2018, condition monitoring was the most frequently adopted IoT use case, followed by smart city. Both use cases include deployments that collect data on the static condition of a connected object: on or off, hot or cold, connected or disconnected. While these solutions provide useful insights, they are limited compared to deployments that monitor objects in motion (Asset Tracking and Telematics), or that combine automation with analytics drawn from sensors monitoring to drive efficient new processes.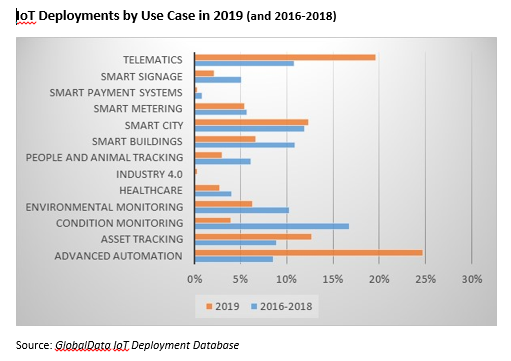 Asset tracking accounted for 13 per cent of deployments in 2019. This was up from 9 per cent during the preceding three year period. Telematics, similarly, increased to 20 per cent from 11 per cent. Most notable is the recent prevalence of the advanced automation use case. This accounted for 25 per cent of deployments tracked in 2019, up from 9 per cent in 2016-2018. It includes deployments involving equipment which has been automated or networked to central control to optimise production and maintenance activities.
Project goals
One of several other data points tracked in GlobalData's IoT Deployment Database are the intended benefits, or project goals. Cost reduction and increased revenues are project goals that were less prevalent in 2019 compared to the previous three years. In 2019, the most common project goal for IoT deployments was improved operational efficiencies. This figure was 79 per cent of all deployments, compared to 66 per cent during the previous period). Enhanced insight and decision-making is another frequent goal of IoT deployments and was evident in 49 per cent of projects in 2019, compared to 56 per cent in 2016-2018.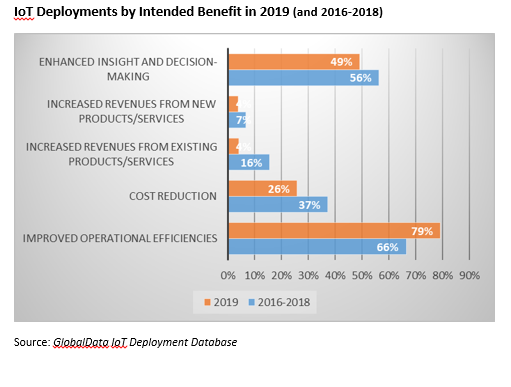 While these trends are fluid (and individual deployments may seek to achieve more than one of these common goals), the even greater focus recently on business efficiency may indicate that operations and processes will retain centre stage in IoT deployment activity in 2020 as digital transformation increases further in maturity across enterprise sectors.
NS Tech and GlobalData are part of the same group